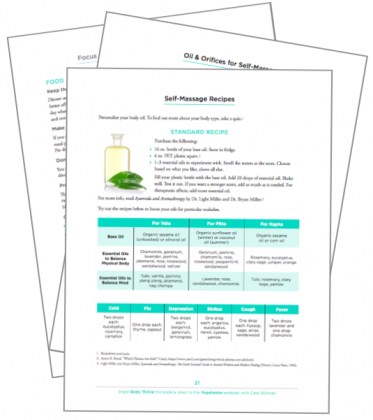 Congrats of you having Body Thrive! Here is your 30+ page Workbook. Print it! You'll get so much more out of your Body Thrive book experience if you print it.
Pin worksheets to your fridge as you evolve through the habits.
Do you have questions about Body Thrive - the book, the course, or the content?
Your next step is a free Body Goals Session. In this session you find out what next steps you need to take to thrive in your body, your mind, and your life.
If you are a fit to be in Cate's Body Thrive group, you'll find out more.
Want to evolve your habits?
Our next Body Thrive group start soon.
Do you want to thrive?
APPLY HERE
days
hours
minutes
seconds
days
hours
minutes
seconds
Body Thrive: Uplevel Your Body & Your Life with the 10 Habits from Ayurveda and Yoga
Do Body Thrive with a Friend...
Body Thrive provides step-by-step instruction to catalyze more energy, improve your digestion, cultivate peace of mind, and evolve your habits toward lifelong health and wellness.
Medical director at Cleveland Clinic's Center for Functional Medicine and 11-time #1 New York Times bestselling author
"Body Thrive is the next frontier of Ayurveda."
Hello, I'm Cate Stillman...
founder of Yogahealer in 2001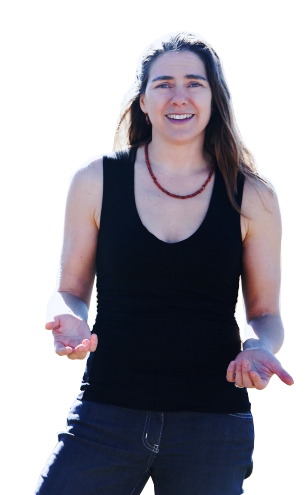 I'm the author of Body Thrive, the founder of Yogahealer and Yoga Health Coaching, and a mom, wife and avid paddleboard surfer, skier and mountain biker. My professional background is in Ayurvedic Medicine and Yoga Philosophy and Therapeutics.
My writing is focused on how to apply wisdom from the ancient traditions of Ayurvedic Medicine and Yoga Philosophy to optimize our body and our lives.

I'm also an entrepreneur and an innovative curriculum creator. My courses include the Yogidetox - since 2002; Living Ayurveda Course - since 2007; Yoga Health Coaching Certification - since 2012; Body Thrive - since 2014; and Awake Living - since 2016.


I'm releasing my second book, Master of You, in 2020 with Sounds True Publishing. I first published Body Thrive in 2015, as an independent publisher, and am deeply grateful to Sounds True for seeing the potential of this book and my message. If you are interested in me coaching you through the habits - check out our global course and community. We get results... fast.
More About The Book +
Global Course Community
Aligning your small daily habits with how you want to feel will give you a new lease on life and a much better future. In Body Thrive, wellness expert Cate Stillman guides you into 10 critical daily routines based on Ayurveda that will rejuvenate you, and create more time in your day. Through aligning your daily schedule to natural biorhythms, Cate leads you into gradual progress through small actions. Body Thrive provides step-by-step instruction to catalyze more energy, improve your digestion, cultivate peace of mind, and evolve your habits toward lifelong health and wellness.
Body Thrive is designed for those who are curious about the habits that lead to radiant longevity. The yogis over a few millenia distilled these habits into a daily code of living - dina charya. This habit code optimizes the human potential for resilience - a strong disease-resistant body, a focus and calm mind, developed intuition, and a freeness of spirit.
Cate Stillman distills this ancient habit code of yogis into 10 practical habits for modern people. Cate writes both to experienced yoga practitioners as well as people who are sick of their outdated patterns that leave them feeling the same way over and over and over again - Tired. Depleted. Fuzzy. Anxious. Overwhelmed.
Cate's experience comes from leading a global community of people interested in thriving in body, mind and spirit for over 12 years. Her down-to-earth modern approach to Ayurveda is a gateway to awaken your body's natural wisdom for you to experience more energy, deeper immune resilience and a focused mind.
In Body Thrive Cate guides you to architect your body and your life in line with how you want to feel.
Get Coached by Cate
+ the Body Thrive Team
Habits evolution is best done with a coach and a group.

If you're savvy enough to invest in yourself, you know the power of being with people who are heading in the direction you want to head, and know the terrain. You want to be with people who know how to get there.

Some members come into Body Thrive in a health crisis or healing crisis. Others keenly want to explore the next level of dynamic aging and radiant longevity.


In Cate's Body Thrive Course you commit to one year of her guidance and support system. You enter a sacred and powerful dynamic group course community. All members are "all-in" on getting results in terms of deep energy, immune resilience mental focus and easeful living.

Packed with Ayurvedic wisdom you will apply to your daily experience, over the year you'll make small changes, try new things, and receive massive amounts of support and resources - basically taking the pressure off and allowing you to approach your evolution as an experiment. We know it works. We have a network of thousands of individuals just like you who agree.
Cate's Global Body Thrive Course and Community is a culture tank of Body Thrive habits. Our habits evolve much faster when we're with people who have better habits. In Body Thrive, you'll build simple habits that make a lifetime of difference. You will evolve your habits, based on the radiant longevity wisdom of Ayurveda, step by step, with ease, support, and community. The return on your tuition investment ($3500 for the year, payment plans available) pays back every year of your future. Our course members have proved it.
To qualify for the Body Thrive Course, fill out the application, and enjoy our enrollment process.
© 2019. All rights reserved.